7 Quart Hybrid Stainless Steel Deep Sauté Pan Fryer with Glass Lid, Non-Stick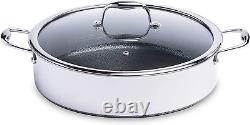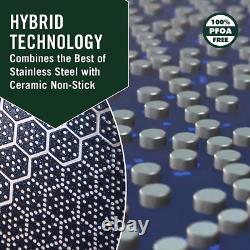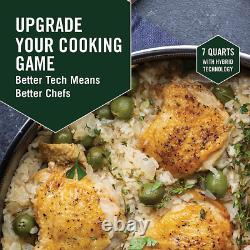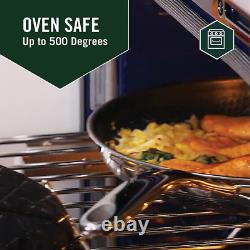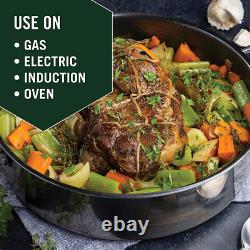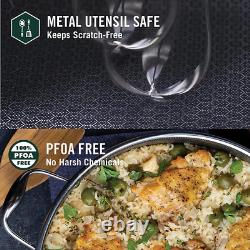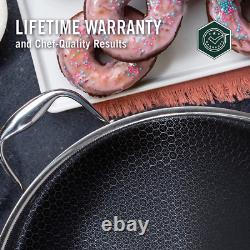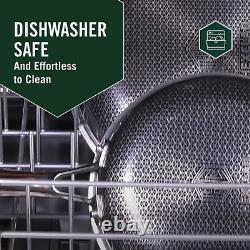 Our NEW HexClad 7 Quart Hybrid Deep Sauté Pan Fryer with lid is one of our most versatile pans yet featuring a large surface area and tall straight sides. Perfect for deep frying, braising, poaching, and is large enough to roast a whole chicken. The cookware needed fresh ideas.
That's why we innovated an entirely new approach. Our revolutionary hybrid cookware provides the best of both worlds, the durability of stainless steel and the easy cleanup of nonstick. We can confidently say HexClad is the best cookware around because it performs like no other. It's certain to become a central player in your culinary repertoire.
HexClad Cookware combines stainless steel with a laser-etched non-stick surface using our patented hexagonal design to provide ideal hybrid cooking performance. Featuring a tri-ply construction, our cookware has a layer of aluminum encapsulated between two layers of stainless steel for perfect heat distribution. All HexClad Cookware is completely non-toxic.
The cooking surface is a combination of ceramic, diamond dust and stainless steel for the best balance of utility and performance. Your 7 Quart Saute Pan is ready for any kitchen, thanks to compatibility with all types of cooktops including induction, gas, electric and ceramic, as well as being oven-safe at up to 500 degrees Fahrenheit.
Please note HexClad Lids are suitable for use up to 400 degrees Fahrenheit only. Keeping your HexClad Saute Pan looking clean is a breeze; the surface is metal-utensil resistant to avoid scratches and can be cleaned with steel wool pads and scorching.
In addition, all HexClad Cookware is dishwasher-friendly (hand-washing is highly recommended). The 7 Quart Saucepan measures approximately 12 x 3.5 inches and 5 lbs in weight. Seasoning according to the official instructions is essential to enjoying HexClad's hybrid non-stick functionality.