New 360 Cookware Stainless Steel 1 Quart Saucepan With Cover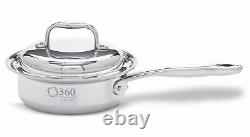 New 360 Cookware Stainless Steel 1 Quart Saucepan With Cover. Our stainless steel cookware is made with T-304 Surgical Grade Stainless steel, so it's built to last. New 360 Cookware Stainless Steel 1 Quart Saucepan with Cover. The 1-quart stainless steel saucepan unit is the perfect Vapor® Cooking starter piece. Cook several different kinds of vegetables together with no worry of mushiness or mixing flavors. Cook without added water, oil, lard or butter and experience the fresh flavor and nutrients of your food as never before. The 1-quart stainless steel saucepan will likely become your most utilized kitchen utensil.
With its unbelievable capacity and unlimited versatility, it's the perfect introduction to Vapor® Cooking. Quality and Construction: Surgical Grade Stainless Steel. Multi Core for rapid, and even, heat distribution.
360 Cookware is thicker than most cookware brands on the market: 110 Gauge. Our Surgical Grade Stainless Steel Cooking surface gives you a healthy, eco-friendly alternative to coated nonstick frying pans or any aluminum pots and pans set. Details to Make Your Life Easier: Dishwasher safe.
Oven safe up to 500 degrees F. Ergonomic handles for easier and better control.
Works on every type of stove: gas, electric, smooth top, glass top and induction cooktop. Waterless Cookware Capable: A century old technology. The construction of our pans with lids create a vapor seal, which allows you to heat your food from every angle (360 degrees). Cooks food faster at lower temperatures, while keeping the nutrients and natural flavor intact.
An added benefit of our cookware. 360 will be in your family for generations to come. Proudly Handcrafted in the United States, Eco-Friendly and Certified Green Manufacturing: 360 Cookware is manufactured in West Bend, Wisconsin. Recognized by the EPA; our manufacturing process includes no harsh chemicals but instead uses a dry sanding process to produce a smoother finish, which results in easier clean-up and a nicer final product.
At Give 5 To Cancer Inc. We are committed to providing our customers with the highest quality products and customer service while supporting our cancer cause. The donations go to support patient care and to find a cure for cancer in our lifetime. The team at Give 5 to Cancer also hosts a charity golf event, The Volkowitsch Open, each spring that donates to both of the foundations, as well as raising cancer awareness. Besides donating proceeds and hosting an annual charity event, our founder, Loren, is on The Bismarck Cancer Center Board here in Bismarck, and volunteers monthly to help support the foundation.
Our team at Give 5 to Cancer walks the walk when it comes to volunteering, donating, and raising awareness for the cancer cause. We invite you to browse through our store and shop with confidence. Bismarck Cancer Center's Mission and Vision. The Bismarck Cancer Center Foundation provides an amazing array of services to help patients during their cancer journeys. Of the Bismarck Cancer Center Foundation is to contribute to the care of the "whole" patient.
This care ranges from compassionate support to cancer awareness initiatives for patients of the Bismarck Cancer Center. This is evidence of our commitment to ease the burden and stress of cancer within our community. These supportive therapies, offered free of charge, are designed to wrap patients in love, support, and understanding while alleviating unnecessary stress and financial burdens from their lives. Funds are used to provide medical and holistic care for the mind, body and spirit of the patients and their families.
Of the Bismarck Cancer Center Foundation to. Assist the Bismarck Cancer Center by providing "wrap-around" services to include our. Along with prevention and early detection initiatives. Incorporate the programs and services identified to ease the burden and stress of cancer patients and their families in the community and service area. Use funding to benefit the Bismarck Cancer Center in the attainment of its mission to provide the highest quality radiation therapy to cancer patients.
Help with the expansion and development of the Bismarck Cancer Center and its services, as well as financial and general assistance. The Bismarck Cancer Center Foundation raises funds through business and private donations, fundraising events, and local and national grants. The Foundation raises funds through business and private donations, fundraising events, and local and national grants. Amy Gross, Executive Director Bismarck Cancer Center.
We are very grateful to Loren Balkowitsch and the Give 5 to Cancer Team for all they do to support individuals with cancer in central and western North Dakota. In addition to their ongoing monthly support, their staff volunteers at various Bismarck Cancer Center Foundation events; serves on the Foundation Advisory Board; and started a highly successful golf tournament where the event's proceeds benefit the Bismarck Cancer Center Foundation. Our Foundation is committed to providing hope, help, and healing that goes beyond radiation therapy treatments. Because of Give 5's ongoing commitment and generous donations, the Bismarck Cancer Center can provide needed lodging and transportation assistance, specialized support including massage therapy, spiritual counseling, psycho-social counseling, dietary counseling, and provide charity care and assistance to those undergoing cancer treatments. Our mission at the Bismarck Cancer Center to provide those with cancer an extraordinary place of healing.
Such care is provided by compassionate professionals who know everyone by name, operate state-of-the-art equipment for the best treatments available, and offer both a kind word and a helping hand. We are immensely grateful to Give 5 to Cancer for faithfully supporting our efforts. Executive Director, Bismarck Cancer Center.
The condition must be the same as it was when delivered to you from the warehouse. Customer must please allow appropriate amount of time 2-3 weeks for items to arrive to international addresses.
Such charges are the responsibility of the recipient of your order and vary from country to country. This item is in the category "Business & Industrial\Restaurant & Food Service\Commercial Kitchen Equipment\Commercial Cookware & Kitchen Tools\Other Commercial Cookware". The seller is "give5tocancer" and is located in this country: US. This item can be shipped worldwide.
Brand: 360 Cookware
MPN: IL001-PC
Size: one size
Color: As shwon
UPC: 850005712008