Chef's Induction 18/10 Stockpot with Lid, Multi-Purpose Cookware, H28-38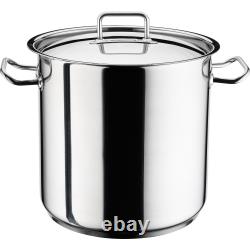 Hascevher stockpots got you covered. A Fundamental Part of Any Home Cook's Repertoire. The Hascevher induction compatible stockpot is a high top-quality 18/10 stainless steel cookware built to cook the most time-consuming foods in an efficient approach. With a complex encapsulated base construction made of aluminum, this powerful disk facilitates even heat distribution that helps avoid hot spots, burning, and long cooking time; thus whatever meal you are preparing is done evenly.
Whether you are defrosting turkey for Thanksgiving or prepping an appetizing dumpling soup, this stockpot is the perfect cooking equipment you can have. It is an essential piece every home must have to create nutritious meals for any season. Hascevher cookware products are built to exhibit a high standard in your kitchen. The classic touch design and its brilliant polished mirror finish adds an eccentric look to your kitchen.
Features high-end handles for easy transportation from stove to sink and it is durable for years to come. Oven Safe to 500 Degrees Fahrenheit. Bake the most delicious recipes you've gotten from your favorite cooking books! Our stockpots are tested and proven to work at high performance in the oven or under broiler.
Proficient Lid Trap in Moisture and Heat. The elegant stainless steel lid from this high-performance stockpot locks in moisture and flavor to quickly boil up water and release nutrients for a healthy meal. Depending on the large group you will be cooking, Hascevher offers the perfect size of stock pots to serve from the smallest to largest families. 38 Quart: 14.5 in. HIGH PERFORMANCE COOKWARE - The stockpot's heavy duty stainless steel construction delivers efficient heat conductivity to an unparalleled level than any other pots in the industry. Food will remain hot as long as it is locked and ready to serve. THE INDUSTRY'S LEADING HEAT CONDUCTIVITY - Engineered with encapsulated base, Hascevher stainless steel pot provides even heat distribution to ensure your food is cooked in a uniform manner.
HIGH-PROFILE LID - The tight-fitting stainless steel lid locks in moisture to keep nutrients for a more flavorful meal. Both stockpot and lid are dishwasher safe. MULTIFUNCTIONAL DESIGN - From pasta to tempting soups, Hascevher stockpots are a must-have in any home. It is classic and its mirror finish adds a sophisticated statement to your kitchen setting. It does not react with food or alter flavors.
PICK THE PERFECT SIZE - These stockpots are compatible with induction cooktops. We offer these stockpots in sizes ranging from 4 Quart to 38 Quart.