Frigidaire Digital Air Fryer Stainless Steel Digital 8.5 Quart/8 Liter EAF805-SS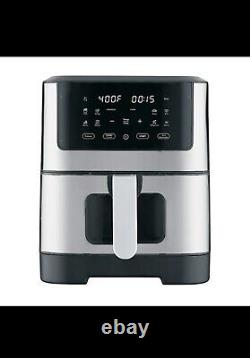 11.61"D x 14.37"W x 14.96H. Adds new cooking skills to your repertoire.
Air frying saves time and energy for nutritious meals. Air frying is quicker than standard oven cooking.
Even and quick cooking due to air circulation. Ideal for reheating with crispy results. Includes nonstick coated frying pot and tray. Equipped with seven easy-to-use microswitch pre-set programs.
1,800 watts of power for efficient cooking. Digital touch control for easy adjustments.
Automatic shut-off and ready alert features. Stainless steel heating element with matte finish.
Stainless steel accents for a stylish look. We take pride in offering quality products backed by our reputable reselling business, Unreal Deals LLC located in Lynden, WA. Your trust fuels our commitment to delivering unbeatable deals and top-notch products. Thank you for choosing Unreal Deals LLC!